Affordable SEO (Search Engine Optimization)
Get a chance to be the best local search result with affordable SEO
Want to Know How to Get Traffic to Your Website? Organic SEO
At Terzetto Digital, we understand how important revenue is for a small business. To increase your revenue, you need to Get Found online with our local SEO services within each digital marketing plan.
Just another way that we are committed to working with you to achieve success and to help you Harmonize Your Digital Marketing℠.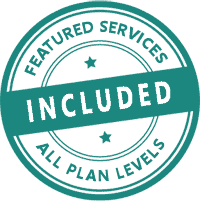 What is Search Engine Optimization (SEO)?
When you start a small business, your focus might be on the thousand and one things that you must do just to launch your product or service. It would most certainly include some form of digital advertising, whether that is local marketing, social media management, or an email marketing campaign. Those are a great place to start, but you would be missing the most important thing – how to get found online? Unless you've opened a business before or held a position in a company where you were involved in website marketing, you may not be aware of Search Engine Optimization, also known as SEO. This is the most powerful way for your new company to get found online through a Google or Bing search. If done properly, it can make you the best search result for what your potential customers need. Now that you know how important SEO is, you should add "find affordable SEO services" to your opening day task list.
To help you find the best SEO services, let's explore search engine optimization in more detail. In its simplest form, SEO is the process of optimizing your small business website to give you an advantage over your competition. That means when your target market types a keyword or phrase, presumably to find something they need or to solve a specific problem, into a search engine like Google, Bing, or Yahoo, that your products or services show up on page one of the Search Engine Results Pages (SERPs). If you're saying to yourself, "that seems easy to do on my own", consider that worldwide there are 1.74 billion websites on the Internet, and over 7 billion Google searches per day. If that does not change your mind, then maybe this will – Google uses over 200 ranking factors, many of which are secret. This means the exact way to get found for specific keyword phrases requires time for trial and error, coupled with great marketing analytics, to understand which content marketing strategy works best for your specific niche.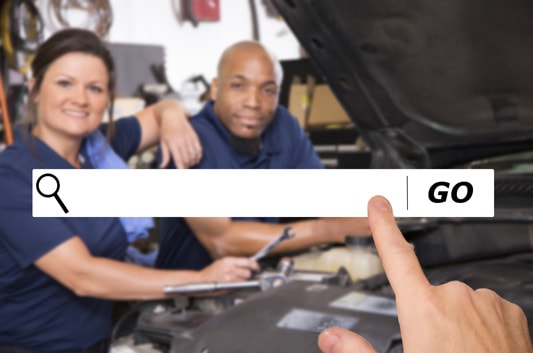 This would be a good time to clarify some terminology that can be confusing. Many people hear about Search Engine Marketing (SEM) and think it means the same thing as Search Engine Optimization (SEO), when in fact they are not the same at all.
SEM – While this is a way for your small business website to get found online, it's primarily through a technique called pay per click advertising, also known as PPC. You place text ads or display ads on the Google or Bing SERPs, then if someone clicks on the ad, you pay a certain amount of money for that click. This is in essence paid search, which can put you on page one very quickly because you are willing to pay for that right. How much it costs you for the top placement varies tremendously based on your industry and the competitiveness of your specific search terms. There are still complexities with this method that may require you to hire PPC campaign management, so be sure to check out our detailed discussion of digital advertising to learn more.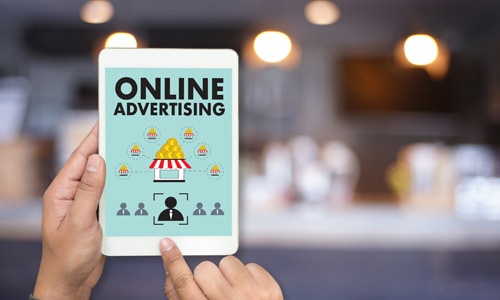 SEO – Although you'll need to pay SEO companies for the work that must be done on your website to help you get found online, your placement on page one is not guaranteed. No reputable digital marketing agency can offer such a guarantee, nor can you pay Google or Bing for such placement. At its core, SEO means techniques to get found naturally, which is sometimes referred to as organic SEO. If done properly, SEO can get you on page one and when a potential client clicks on your listing, it does not cost you anything. You don't pay per click because you earned the right to be at the top through great website content. This really means that Google or Bing recognizes your product or service to be the best result for what that person was searching for, because at the end of the day, people use search engines to find solutions.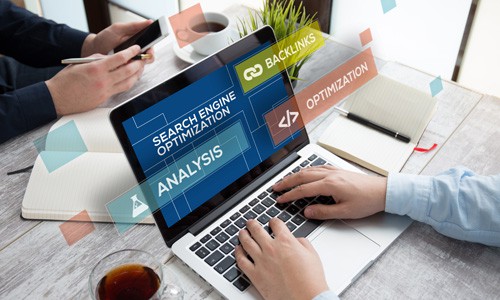 We are often asked whether SEM or SEO is more cost effective for a small business. The answer depends on several factors, but in general we don't look at these digital marketing services as being a one or the other question. When we complete a digital marketing strategy, it will include paid search for at least the initial several months. That is done specifically to generate traffic from places like Google Ads, Microsoft Advertising, Retargeting Ads, and Social Media Ads during the time it takes to get traction on the organic SEO. As we monitor the digital analytics over the ensuing months, we'll start to scale back the SEM budget as the SEO earns better rankings in the SERPs. Used in this way, they complement one another, but in the long-term, SEO will give you a better return on your investment because a good content marketing strategy allows you to maintain the rankings without paying per click.
Where Would Search Engine Optimization (SEO) be Used?
Once you've decided to hire an SEO agency, you should ask them how they will accomplish getting your website found online. This is generally done through a complex process which can be divided into two categories of services: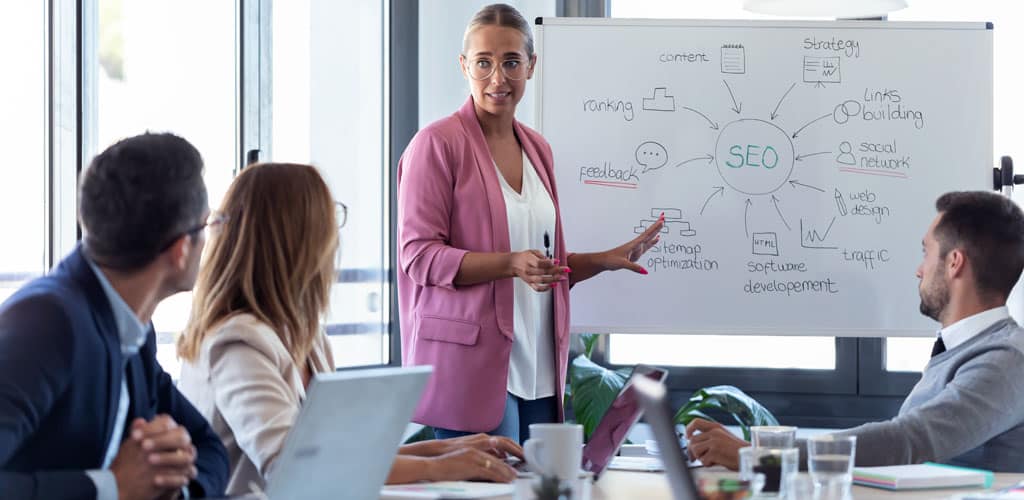 On-Page SEO (or On-Site SEO) – This involves direct optimization of your small business website. The depth of work required will depend on the quality of your website design company, what platform they used for development (such as WordPress websites), and the competitiveness of your industry:
Keyword Research – The more you know about your target market, the easier it is to determine the keywords they would enter into a search engine to find your solution. This knowledge is generally acquired when you get focus from documented strategic planning, persona development, and competitor analysis. The outcome of this keyword research will be to inform your content writing services as follows: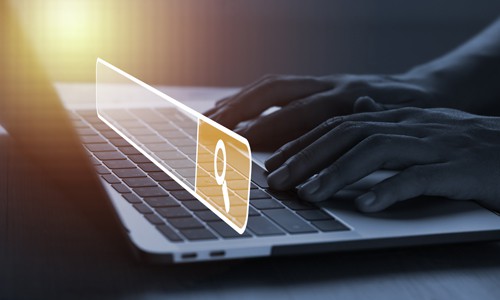 Meta Tags – There are several common code related areas within web design and development that search engines look at for guidance. Specifically, the website title and description, which must be written in a way that entices the searcher to click on your listing in the SERPs.

Content Creation – Each website landing page that you add to your website design should have a relevance to your product or service, but it also must contain the keywords discovered during research or your business will not get found online.

Search Intent – It can be tricky to understand what someone really wants when they enter a search term. By using a content framework, you'll better understand each step of the Buyer's Journey to create a wide variety of website content able to satisfy the search objective.
Technical SEO – What you see on the surface of a website is a function of graphic design services and copywriting, both of which are there to help inform the consumer and act as a tool for your website marketing or ecommerce marketing. But what you don't see is all the code behind the scenes, the bits web designers use to make the website work. This is not the case for the major search engines, as they can see both the front end and back end, meaning technical errors must be addressed quickly to maintain your rankings. Here are some of the most important: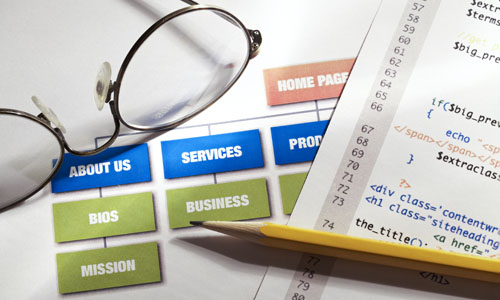 Google Search Console / Bing Webmaster Tools – Each search engine provides a set of free tools for all websites. With these tools, you have a mechanism to gain insights into how the search engines view each website landing page. This let's your website designers make any corrections before it impacts rankings.




Google Analytics / Facebook Pixel Check – Tracking how visitors navigate your website, what pages they view, and how they found you is paramount to an effective digital marketing strategy. These tracking tools from Google and Facebook should be available in your analytics dashboard for your review.




Canonicalization Check – Sometimes content gets duplicated by accident within your own website. This can be especially true for an ecommerce website where common product descriptions exist for products that come in different colors or sizes. The solution is to use a canonical tag within the code to identify the primary page.




404 Error Check – No one likes to find the perfect search result only to click on it and discover the website page is no longer there. A 404 error code is returned to the browser and can be confusing to the end user. It's a technical term for "not found", and the best way to resolve it is to ensure that whenever you eliminate a website landing page, that you redirect the old page to a similar resource that will still provide value to the end user.




Robots.txt & Sitemap Review – The Internet is far too large for humans to index, therefore search engines rely on what they call robots to do the work. These bots crawl your web site to discover each website landing page and then add it to an index of searchable pages. They reference certain files, namely the Robots.txt and Sitemap, to help them determine which pages to look for and to perhaps skip ones that are not relevant. This is a critical to the success of organic SEO as the more efficient you make your site, the more often you can get re-indexed.




Schema.org Check – As an enhancement to the older methods of indexing a website, Schema.org was formed in 2011 with the support of Google, Bing, and Yahoo. The idea was to have your website design company add structured data markup on web pages to better inform what the website content represented, thereby providing richer search results. While there are hundreds of tags available today that allow you to get found, some good examples of Schema Markup are a Book, Movie, Music Recording, or Recipe.
Off-Page SEO (or Off-Site SEO) – There are external factors that can impact how well you rank in search engines. This goes back to the origins of the Internet, where the concept of a World Wide Web meant that web pages would be linked to one another to share knowledge. If website "A" didn't have the answer, they could link to website "B", who could provide the answer, and so on. As sophisticated as technology has become, some things never change:
Link Building – If you were on a well-respected web site and they offered a link to another site with information that would be helpful to you, wouldn't you trust that link? Conversely, if you ended up on a shady website that didn't even have a secure certificate (the lock in the browser that indicates the data is being encrypted), you might be hesitant to click that link out of fear that you would get a computer virus. Believe it or not, search engines work the same way, giving more relevance to a link from a reputable website than a questionable one. This is not done arbitrarily, rather there are a couple of ways they identify them: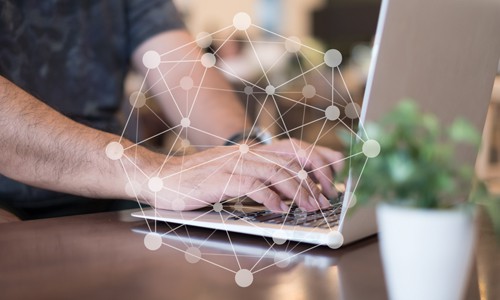 Domain Authority (DA) – created by Moz, an SEO consulting and research company, ranks domains on a scale of 1 – 100, where higher scores indicate a better ability to rank. If you were to purchase a new domain today, it would have a DA of 1 because there is no history behind it. As your site develops over time, you create a natural link profile that shows you link out to other sites to share resources, and other sites do the same back to you. This starts to build your DA and can help your site become valuable to other sites. When working on getting incoming links to your website, having a higher DA on the referring site increases the value of that link. Although it can be difficult for a small business website to get high DA links, the best way to attract that link is with high quality content creation.

Google PageRank (PR) – Created in 1996 by then Ph.D. candidates in Computer Science at Stanford University and future Google founders, Sergey Brin and Lawrence Page, to "improve the quality of web search engines". It's a mathematical formula to rank a web page on a scale of 0 – 10, where 10 is perfect, and determines how the power of a page link (the "link juice") decreases the further you are from the root of the domain or the more you link to other pages. The PR of any web page could be viewed up until 2016, when it was hidden by Google. Despite that fact, they still use it as a ranking factor and it's an important SEO concept for internal link building and creating website structure.

Beyond the history lesson, it's important to understand that high-quality link building is an extremely important factor in getting ranked in search engines today.
Local Citation Audit & Cleanup – Most businesses tend to move at some point to save on rent or to get a bigger space to accommodate growth. It doesn't matter if you have an office location that caters to Business-to-Business (B2B) clients or a retail location that is for Business-to-Consumer (B2C) transactions, having the wrong contact information can be detrimental to both sales and your local search engine rankings. Local citations are online directories where your business is listed to help people find your location. Some of the more popular ones are Google Business Profile (formerly Google My Business), Facebook, Apple Maps, and Yelp. A basic SEO audit can find out where you've made a wrong turn in your local marketing to help you get on the right path with your NAP: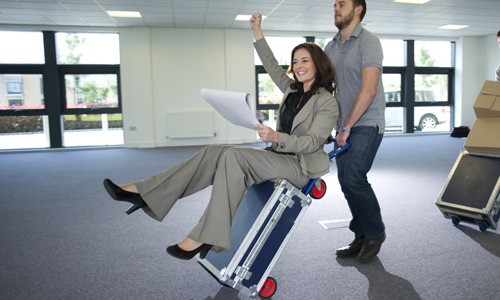 "N" is for your Company Name – Maybe you've changed your business name over the years, or perhaps it can be listed with a hyphen, or it just might be difficult to spell. Whatever the reason, having it listed correctly not only helps you get found, it also improves your brand recognition.




"A" is for your Company Address – How frustrating is it for both you and your potential customers that wherever they search, they are given directions to your old business location? Something as simple as the wrong suite number can cause confusion and lost sales.




"P" is for your Company Phone – Even with all the self-service functionality built into today's business website design, perhaps your target market wants to call or text you to get more information. Dialing a wrong number can create a lack of trust in your business and your online reputation.




We could add "W" to this list for Website URL – While not as common because your domain name doesn't usually change when you move your physical location, it does require review to ensure you are not missing out on potential sales due to a bad link.
Directory Listing & Citation Building – Getting listed in local or national directories is a key factor in how to improve SEO. When working on your SEO strategy, don't overlook the fact that many directories allow you to add much more than just your Name, Address, and Phone (NAP):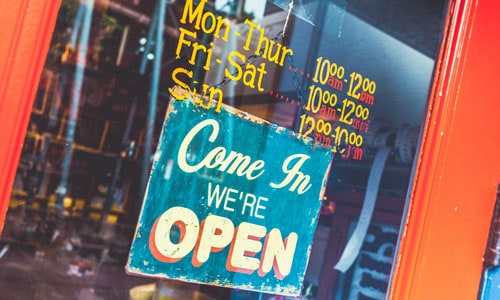 Google Business Profile Optimization (formerly Google My Business) – Perhaps one of the most powerful citations, claiming your listing gets you the top spot on Google Maps for local search results. They also offer:

Business Hours, including special hours for holidays
Category and Attributes
Products and services
Questions and answers (Owner-generated queries)
Posts, where you could add your website blog posts
Reviews, which you can monitor with reputation management software
Questions and answers (Consumer-generated)

Bing Places for Business Optimization – Although Bing has a smaller market share of search and is not as feature rich as Google, you should not miss this opportunity to get in front of potential clients.

Other Directories – There are thousands of online directories, however, you should only focus on the top national, local, and niche directories to get found, thereby ensuring the quality of the local citation. The reason is that not all directories are created equally because the major local data aggregators may not include them. These aggregators take information from trusted sources to ensure accuracy of your listing, then share that with the larger directories, such as Yelp, Yellow Pages, Angie's List, and Chamber of Commerce just to name a few.
When Would Search Engine Optimization (SEO) be Used?
Regardless of where you are in your small business website design, it's never too late to learn how to get traffic to your website. Whether your business model requires internet marketing websites or eCommerce marketing websites, both types can benefit from affordable SEO services. The key to your success will be to start as soon as possible since organic SEO does take time to show results.
As technology continues to advance in all aspects of both consumer and business processes, it's more important than ever to be positioned to take advantage of this rapid change to beat your competition:
Mobile-Friendly Design – Many entrepreneurs have completely ignored the best practices for small business SEO and have not updated their website content, let alone the actual website design, in many years. While it may be obvious that fresh content creation helps with search engine results, what is wrong with an old website design? Plenty, but the number one reason since October 2016 has been that mobile and tablet device usage had finally exceeded desktop usage. That means if your old website was not built with a Responsive Web Design, it is very difficult to use on any of today's modern smartphones. Having to pinch, squeeze, squint, and use cuss words is no way to introduce a customer to your eCommerce website.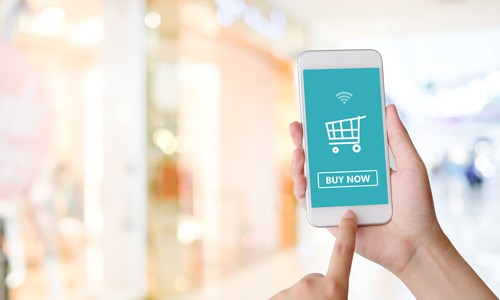 Google Mobile-First Index – Under development since 2016, Google has now announced March 2021 as the launch date of this initiative. What does this mobile first index mean for your website designer? For content to get indexed in Google and be available when searched on, they must make sure that it can be seen on a mobile device. If it can only be seen on a desktop version of your website, it will no longer get indexed. This is not the same as being a Mobile-Friendly website, but if you only have a desktop version of your website, ASAP would be the time to hire a website design company to get a responsive design and solve both problems.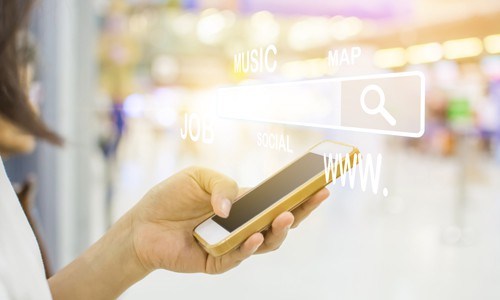 Voice Search – Remember when we first met Siri, then came Alexa, and now there's Hey Google? These assistants all seemed to be a fad at first, something fun to do at a party by asking Siri to calculate 1 trillion to the tenth power. But over time, these smart speakers have become welcome additions in our homes and businesses due to their versatility. You can ask them to do mundane tasks like setting a timer when cooking, what the weather will be tomorrow, to turn on the lights, or play music (like a speaker should). Hands-free information is invaluable in our time-starved lives, so you'll want to make sure your website is ready to get found with voice search by leveraging local SEO services.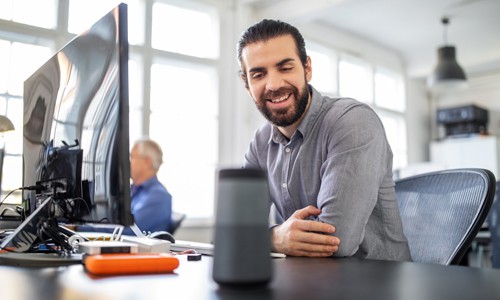 Who is Search Engine Optimization (SEO) For?
When you consider all the various digital marketing services available today, the one that is intertwined with all of them is small business SEO. When you take the time to apply search engine optimization technique to your business website design, you'll find that it provides critical information that can be used in other aspects of your digital marketing strategy:
Content Writing Services – If your content marketing agency tells you that content marketing has replaced SEO, they may not be that far off. The adage that "Content is King", coined in 1996 by Microsoft co-founder Bill Gates, has always been a key pillar in organic SEO. Google loves websites where content creation is always happening, whether in the form of blogging, case studies, or high-quality product descriptions on an ecommerce website.
The Advantages of Social Media – When you Google someone's name, what usually shows up at the top of the SERPs is from LinkedIn, Twitter, or Facebook. That means the entrepreneur or startup should work on their personal brand to take advantage of these search engine results. Create authority by writing blog posts, then republish them through your social media presence, ensuring that you'll get links back to your company website.
Video Marketing – Just like social media, Google will also index your video marketing efforts like explainer videos, often placing these before your competitors results even when your own website does not rank. If you've properly optimized your videos with keyword transcripts, you'll also get the benefits of YouTube marketing, which just happens to be the 3rd largest search engine based on US market share.
Online Reputation Management – Seeing stars ratings displayed in an ocean of text on the search engine result pages will help make your listing standout and get clicks. This can be accomplished with good reputation management software and the addition of structured data markup supported by the Schema.org initiative.
Marketing Analytics – The results of local SEO services should be more customers calling you, visiting your store, or placing orders online. When you want to see what is working and what need more attention, turn to your analytics dashboard to get in-depth digital analytics. Reviewing these often can lead to understanding where you can adjust your website content to improve your conversion optimization.
How Much Does Search Engine Optimization (SEO) Cost?
One might say that the cost of creating a well-optimized website marketing machine is priceless. But as marketing budgets go, search engine optimization pricing can range quite dramatically based on who you hire when you need professional SEO services: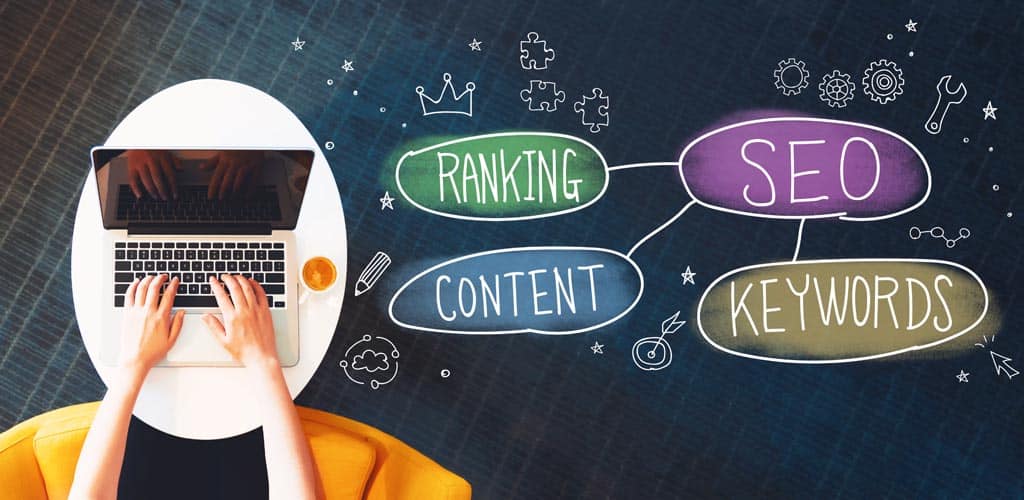 Local SEO Services – If you're a local business, you may be able to save some money by strictly focusing on your service-area business. This is typical of home-services companies that may only operate within a specific radius of maybe 50 to 60 miles from the center of town. There are many optimization techniques that can be used, such as city pages or near me searches that can make this business more prominent in local search results for a lower cost.
SEO Consultant – This is typically an individual that has experience with creating an SEO strategy based on their knowledge of small business SEO. As a consultant, they can lead you in the right direction for a reasonable cost. However, considering that most consultants will only present you with a strategic plan, you'll still need to seek out affordable SEO services to implement the strategy.
SEO Expert – Someone who has vast experience in the technical SEO aspects. While they may be competent when it comes to the mathematics of PageRank or the more sophisticated aspects of organic SEO, they tend to be very expensive. For that reason, they usually only work with large corporations that already have an established in-house marketing department.
Digital Marketing Agency – By far the most affordable SEO for a small business, they generally offer full-service digital marketing, so you only must hire this single vendor for all your needs. By bundling all the digital marketing services, they attain economies of scale that make this the smart solution, with both time and cost savings advantages. Many of them also provide targeted SEO packages that allow you to further save money by only paying for what you need.
Are You Ready to Get Found as the Best Local Search Result With Affordable SEO?
All Digital Marketing Plan Levels Include Search Engine Optimization (SEO)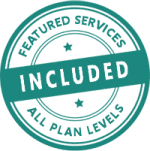 You'll Get Found With These Featured Services

Keywords Ranking in Search Engines
| Starter Plan | Growth Plan | Pro Plan |
| --- | --- | --- |
| 5 | 10 | 15 |
The number of keywords that we use to optimize your website and monitor for search engine ranking in Google, Google Local, Google Mobile, and Bing.

Website Optimization
| Starter Plan | Growth Plan | Pro Plan |
| --- | --- | --- |
| | | |
Our SEO Analysts will review your website and make specific recommendations to optimize existing or new pages for your target keywords. Recommendations in title, description, keyword density, internal linking and rich snippet markup.

Google Search Console/Bing Webmaster Tools
| Starter Plan | Growth Plan | Pro Plan |
| --- | --- | --- |
| | | |
A technical tool provided by Google and Bing to help understand how they view your site from both a visual as well as a code perspective. We monitor this tool to correct any issues as soon as they occur.
Google Analytics/Facebook Pixel Check
| Starter Plan | Growth Plan | Pro Plan |
| --- | --- | --- |
| | | |
Understanding who visited your website and where they came from is key to improving marketing and conversions. We'll inspect or install these tracking codes from Google and Facebook.

Canonicalization Check
| Starter Plan | Growth Plan | Pro Plan |
| --- | --- | --- |
| | | |
Sometimes a website will have multiple pages where content has been duplicated. To tell Google which page is the original, we use a special tag that helps separate the pages to increase rankings.

404 Error Check
| Starter Plan | Growth Plan | Pro Plan |
| --- | --- | --- |
| | | |
When searching for a website page that has been removed, the web browser will issue an error called "404". This is a bad signal to Google and we'll re-route any of those found to new content.

Robots.txt & Sitemap Review
| Starter Plan | Growth Plan | Pro Plan |
| --- | --- | --- |
| | | |
The way search engines index websites is with "Bots". We'll write special code to tell those "Robots" where to go and help them find all of your content by providing a map that outlines your website pages.

Schema.org Check
| Starter Plan | Growth Plan | Pro Plan |
| --- | --- | --- |
| | | |
Schema.org is a joint effort by major search engines to improve the Internet by creating a structured data markup schema. On-page markup helps search engines understand the information on website pages and provide richer search results.

Google Business Profile (formerly Google My Business) Optimization
| Starter Plan | Growth Plan | Pro Plan |
| --- | --- | --- |
| | | |
Sets up and optimizes your Google Business Profile (formerly Google My Business) profile, which is often referred to as "search rank zero" since it can be the first thing a visitor sees about your company without leaving Google.

Bing Places for Business Optimization
| Starter Plan | Growth Plan | Pro Plan |
| --- | --- | --- |
| | | |
Often overlooked by Google's impressive 92.05% search engine market share, Bing does have 2.83% search engine market share and we'll make sure you can be found by those people.

Voice Search Optimization
| Starter Plan | Growth Plan | Pro Plan |
| --- | --- | --- |
| | | |
Searching by voice using a smart speaker such as Alexa or Google Home, or a smartphone voice assistant is no longer a fad. Is your business ready to get found in voice search queries? We have the keys to building this voice presence for local businesses.

Off-Site SEO Link Building
| Starter Plan | Growth Plan | Pro Plan |
| --- | --- | --- |
| | | |
The Internet thrives because it is a place where you can easily explore content. Links are the core way to facilitate this connection and Google still favors websites that have links pointing to them. We'll make sure that your site is one of them.

Local Citation Audit & Cleanup
| Starter Plan | Growth Plan | Pro Plan |
| --- | --- | --- |
| | | |
Nothing is more frustrating than having a prospect attempt to call, visit, or email you when they are getting that information from an erroneous source. We'll seek to find and fix incorrect business listings to improve your local presence.

Directory Listing & Citation Building
| Starter Plan | Growth Plan | Pro Plan |
| --- | --- | --- |
| | | |
Getting your company Name, Address, and Phone ("NAP") correctly listed in online directories helps improve visibility. We'll work with major aggregators, Factual and Infogroup, to get you in over 30 major directories.
Start with a free analysis of your digital marketing.