Crush Your Competition With Messenger Marketing to Convert Prospects Into Customers.
In today's fast based, always connected technology driven world, your small business customers expect to get answers to their problems anytime day or night. These may be existing customers that have questions about a purchase, or prospective customers who are interested in your company. As is turns out, your product or services might be the solution they are searching for, however, if your competitor answers the question before you, then the business is lost.
One of the best ways to address your customer questions is to have numerous ways for them to communicate with you. This may include traditional avenues such as phone calls and emails, as well as more advanced ways such as text messages and a social media presence. But those communications methods can often cause a delay in response from your end if not properly staffed, or worse, if you never check your social media messages.
That's when adding Live Chat or Chatbots skills on your website can help your small business provide great customer service and answer product or services questions 24×7, creating existing customer loyalty and winning new customers before your competition even wakes up!
We'll discuss what this technology is with three approaches, giving you the pros and cons of each so you can make an informed decision on which method works best for your small business.
How Do Live Chat and Chatbots Work?
All these tools operate in a similar fashion, typically sitting at the bottom right corner of your marketing or ecommerce website. When a customer or prospect visits a page, the Chatbots either sit there quietly requiring the user to click them to start, or they will open up into a larger box and prompt the user with a welcome message or even an audible alert. The point of these tools is to provide a conversational mechanism for visitors to get more information. They can type in a question and either get a response from a live human or an automated robot ("bot") that has been trained to get smarter using Artificial Intelligence (AI).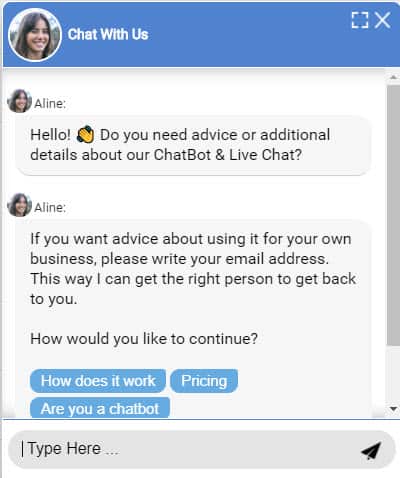 Live Chat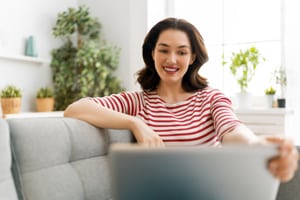 As the name implies, this tool opens a direct line of communication between the website visitor and your company. They type into a window that pops-up over the website content, allowing them to continue to browse your eCommerce products or informational website while continuing to chat with you. On your end, your customer service team will receive an alert through the Live Chat administrative interface, allowing them to type messages back to the visitor and track what website pages they are browsing. This is a powerful, real-time way to engage with customers and help them find the right solution fast.
Pros
Product or Service expert can answer questions quickly
Ability to upsell or offer discounts as appropriate
Pre-written answers to common questions reduce staff typing time
Cons
Must dedicate staff time during your operating hours
Staff wording or typos may turn off some users
Does not provide help when your business is closed
Chatbots – Website Based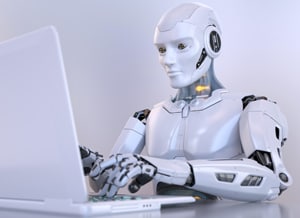 The difference between this and the Live Chat is that a Chatbot does not require any human intervention as it uses Natural Language Processing (NLP) to understand questions and learns more over time. Chatbots operate similarly to Live Chat where visitors type directly within the web browser without them needing any additional tools. This technology reduces labor costs and can be available day or night to accommodate questions from visitors in any time zone.
For the best customer experience, Chatbots do require more setup time to make the conversations as helpful as possible. There are easy-to-use drag and drop interfaces where you can visually create the communication flow in anticipation of the typical back-and-forth exchange of questions and answers. If the bot is unable to answer a question, it can offer to gather the visitor's email address to have a company representative contact them with the answer. This is an important distinction in that the person using the Chatbot remains anonymous unless you prompt them for their name, email, or phone number as part of the dialog.
Pros
Available 24×7 without need to dedicate staff
Can answer questions, show products, or give options for a call/email back later
Can get smarter over time using Artificial Intelligence (AI) and Natural Language Processing (NLP)
Cons
Upfront time commitment to properly configure the bot for your business
Complex questions can often cause bot confusion with the inability to answer
The bots pretend to be real people but can come off "robotic" in the conversation
Chatbots – Facebook Based
A Facebook Chatbot only works if the website visitor has a Facebook account, which provides some great advantages over a web-based Chatbot. For one thing, they are no longer anonymous because they had to login to Facebook, essentially telling you who they are from a Facebook perspective. If you also have your Facebook Pixel set up correctly on your website as part of your digital marketing strategy, then you'll get additional demographic information that you can use to target them using Facebook Ads. And finally, because the Facebook Chatbot works within the Facebook Messenger App, you have a way to communicate with them after they leave your website.
The biggest disadvantage to a Facebook Chatbot is that you need to know if your target market uses Facebook or not. If not, then they can't communicate with your bot and may never come back to your website. With more than 2.7 billion global monthly active users as of the second quarter of 2020, it's likely that you do have customers or prospects on the platform. The question you need to ask is what percentage of your target market would benefit from Facebook Messenger. According to Statistica, as of July 2020 the highest percentage of Facebook users were ages 18-44, with the largest group being men ages 25-34. If your product or service targets ages 55+, you may not want to use a Facebook Chatbot.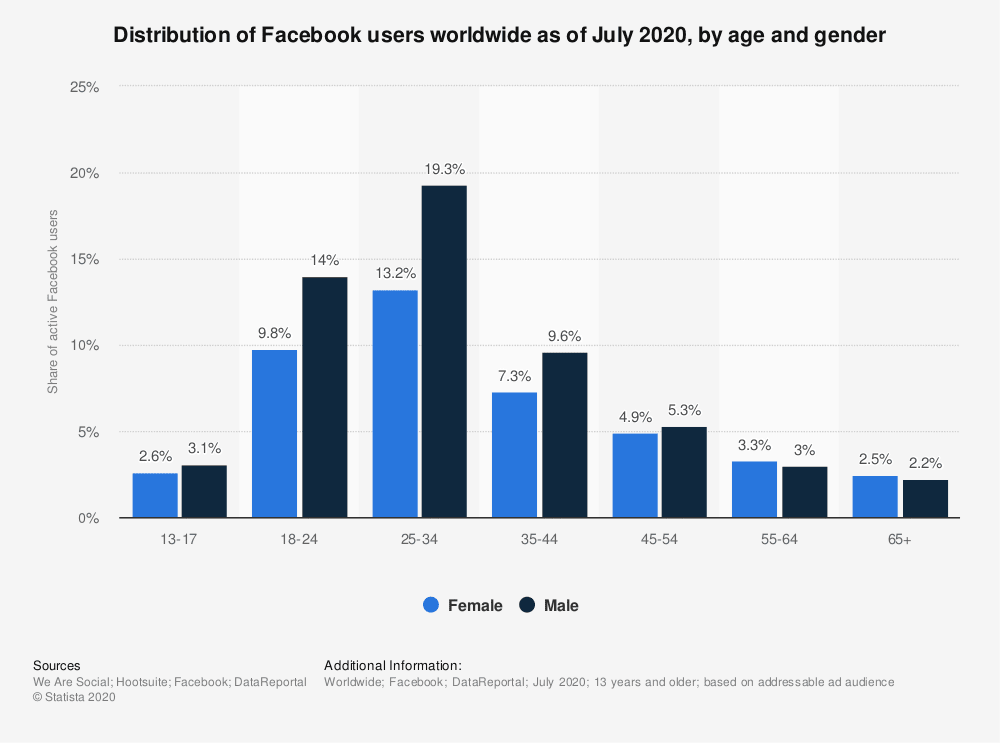 Pros
Available 24×7 without need to dedicate staff
Can answer questions, show products, or give options for a call/email back later
Connects you to the visitor through the Facebook Messenger App for better follow-up
Cons
Upfront time commitment to properly configure the bot for your business
Complex questions can often cause bot confusion with the inability to answer
The visitor must have a Facebook account to interact with your Facebook Chatbot
Combination of Skills – Live Chat / Web-based Chatbot / Facebook Chatbot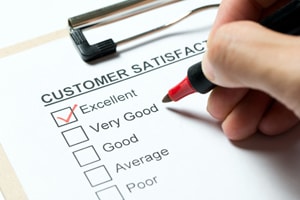 To ensure that you have the optimal customer service approach, you may want to consider a combination tool that can act as a web-based Chatbot, or interact with Facebook Messenger, or transition to Live Chat when needed. With this sophistication, you get the benefits of a Chatbot that works for you 24×7 to answer most customer's questions, the advantages of social media communication, with the flexibility to bring on a Live Chat Agent for more complex interactions. This is the trifecta of technology, allowing you access to a larger target market while giving your prospects faster responses with that personal touch to win them over as customers.
Pros
Reduces staff time if Chatbot can resolve simple questions or issues
Staff can take over from Chatbot on complex questions, improving customer satisfaction
Gives you 24×7 coverage with notes from bot available to staff for follow-up with customers as needed
Cons
Upfront time commitment – you still must configure the bot to cover times when you can't Live Chat
Exposes the fact you're using a bot when it asks if they want to be connected to a live operator
Staff time is required when the bot requests live operator intervention
Choosing Your Skill Set
The low cost of Live Chat, Web-based Chatbots, and Facebook Chatbots relative to the customer satisfaction benefits they provide makes it easy to say "Yes" to adding this automated tool on your website. That said, choosing the best solution for your small business will come down to deciding which options fit best with your customer service goals.
Focus on Great Customer Service
Tony Hsieh, an American internet entrepreneur, venture capitalist, and CEO of the online shoe and clothing company Zappos, once said "Customer service should not be a department. It should be the entire company." If you focus on satisfying your customer during every step of your digital marketing plan, you'll find that Live Chat and Chatbots can help you achieve great customer service that will grow your business.